Tuesday 10 July 2018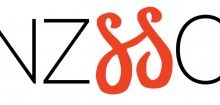 This is an exciting opportunity for proven choir directors to lead the iconic New Zealand Secondary Student's Choir. Established in 1986 NZSSC is a national ensemble working with 14-18 year old singers for a two-year long cycle that traditionally finishes with an international tour.
If you are experienced at working with young people, and passionate about a diverse choral repertoire including waiata from Aotearoa and the Pacific, we would love to hear from you.
NZSSC is about choral excellence and developing leadership capabilities and is a real champion of choral music in Aotearoa New Zealand.
READ MORE