INTERESTING STUFF
Meet the leaders of NZYC 2020 – 2022
Thursday 3 June 2021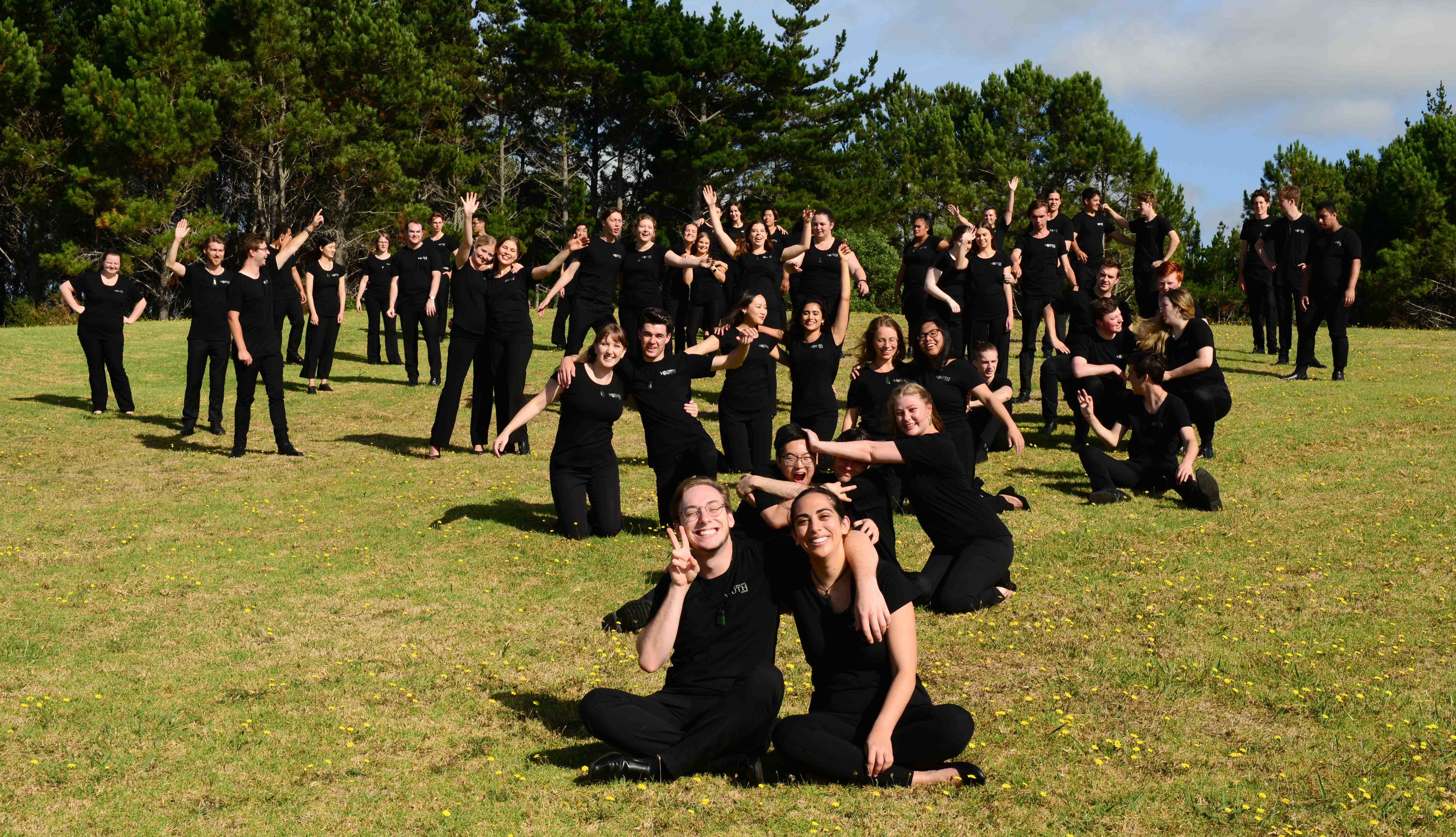 We caught up with this year's NZYC Leaders Bianca Davidson and Peter Liley. Bianca and Peter have been in NZYC for nine and five years respectively so have a lot of memories and experiences to look back on!
NZYC's choir leaders are senior positions of responsibility in the choir who are there to assist, support and unite the choir both musically and pastorally – and they're always there to lend a hand to the staff while on tour.
What are you watching, eating and listening to right now?
Bianca: Eating chicken and cranberry pizza, listening to the Jersey Boys soundtrack, and keeping a watchful eye out for a courier delivery!
Peter: Watching Invincible and Midnight Diner. Eating a lot of homemade egg sandwiches at uni. Currently jamming out to The Days pt.2 by my incredibly talented friend (and NZYC alumnus) Jack Page.

How long have you been in NZYC and were you in NZSSC before that?
Bianca: 9 years – I started in 2013 as a first alto then journeyed upwards into the sopranos. I wasn't in NZSSC, but I sang in choirs at Rangitoto College.
Peter: 2021 is my 5th year in NZYC, and I was in the 2015-16 cycle of NZSSC.
Most important thing you've learnt during your time in NZYC?
Bianca: Watch the conductor, lean on the third quaver in a dotted crotchet, watch the conductor, tempo markings = watch, look up! Honestly, NZYC is a huge opportunity for growth both musically and in general as a person so it's hard to pin down. I'm more well rounded and confident now than when I was new to NZYC and I've watched many other singers  go through the same process. Also, watch the conductor!
Peter: Storytelling is the best technique you can put into your performances! Audiences will forgive almost any error in pitch or  tone if the singing is meaningful. This is a two-way street: an audience will be bored by a performance that isn't engaging, no matter how technically excellent!

Highlights of NZYC so far…
Bianca:To sum it up – making so many new friends and singing in some amazing places. Some specific memories – visiting the Women's Prison, the 2016 Europe Tour (particularly IFAS in Pardubice, Les Quesnoy and Notre Dame), performing with The Rolling Stones, the national ANZAC memorial.
Peter: Too many to mention! Singing in the marae at Waitangi when it was too wet to perform outside was extremely special. I also found so much joy in watching younger choir members choosing pounamu pieces for each other in January of 2021. A highlight of the 2019 Pacific tour was scraping together enough money in Tonga to hire a local with a ute to take about 15 NZYC members (most of us sardined into the back) to a ridiculously beautiful secluded beach for a few hours.

What has been your favourite NZYC tour destination? – Overseas and in New Zealand…
Bianca: Overseas – Les Quesnoy, without a doubt! In NZ – heading to Waitangi is always very special.
Peter: My favourite overseas destination was probably Noumea in New Caledonia, which has a fascinating mix of Pacific and French culture. I got to have a long talk with some friendly locals (in very broken French!) and try out some delicious New Caledonian food!
Do you get nervous before concerts? Any top tips for beating nerves?
Bianca: Not so much any more – but I do if there's something I need to do solo. Breathe, and remember you have your choir whānau right there supporting you! Even if you make a mistake, they'll help you laugh it off.
Peter: Even after so many concerts, I do still get nervous! My top tip for getting through a concert is to be aware that nerves make your shoulders, neck and jaw super tense, and relaxing them before you start makes all the difference!(massage train anyone?)
What's your favourite piece of NZYC rep to sing at the moment?
Bianca: Probably Diedre Robinson's arrangement of Steal Away, Duo Seraphim (Guerrero) …and the Stravinsky 😉
Peter: Deirdre Robinson's arrangement of Steal Away is stunning, yet so subtle. I often have to hold back tears in the last few bars of that piece when I can feel the whole choir is in the same headspace.

What're you up to when you're not with NZYC – are you currently studying or working?
Bianca: I studied a Bachelor of Optometry (Hons) at The University of Auckland from 2013-2017 and now work full-time as an optometrist in Auckland.
Peter: I recently returned to uni to undertake a graduate diploma in computer science – a little different to my first degree in music! When I'm not studying I gig with various music groups as a singer and sax player.

Advice for younger singers just starting out?
Bianca: Don't be afraid! Don't worry if you feel like you don't know as much or don't have "as good a voice" as the person next to you. You don't need to have a perfect, loud, superstar voice or have sat all the music theory exams to be a valuable choir member – we need all sorts, and you'll learn by doing and working hard! Find a choir, find a singing teacher, and keep at it!
Peter: There's absolutely no need to be embarrassed about making mistakes. I make dozens of mistakes every rehearsal. I've cracked or sung the wrong word or note (or both) or run out of breath more times than I can count, and so has every singer we admire. Stuffing up doesn't make you an inadequate musician, and it doesn't need to get you down! If your choir/music group doesn't already use 'mistake hands', it's a great technique to make mistake-making more acceptable!