Rhiannon Cooper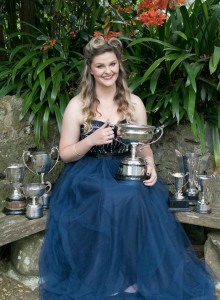 SOPRANO
SOPRANO
Born and raised in Whangārei, soprano Rhiannon Cooper began her vocal journey with the late Joan Kennaway who fostered in her a love of Classical singing. While in Whangārei, she was a regular performer with Opera North as both a soloist and ensemble member before moving to Dunedin in 2016 to begin vocal studies at the University of Otago. In 2020 she completed a Bachelor of Music endorsed in Classical Performance with First Class Honours under the tutelage of PPF Judith Henley, Assoc. Professor Judy Bellingham, and Dr. Tessa Romano. She is currently studying towards a Master of Music in Classical Voice Performance with Dr. Tessa Romano and Blair Professor Terence Dennis.
Rhiannon has appeared onstage as Peep-Bo in Gilbert and Sullivan's The Mikado and was scheduled to sing Rosalinde in Johann Strauss' Die Fledermaus. She has been a guest soloist with a number of distinguished singers and groups such as Simon O'Neill and Anna Leese (Celebrating 2021 with the Dunedin Symphony Orchestra), and Jonathan Lemalu (An Audience with Jonathan Lemalu). She is a two-time nominee for the PACANZ National Young Performer of the Year Award, recipient of the Colin McDonald Memorial Prize (2017), the Victor Galway Medal and Ida G White Memorial Prize (2020), and the RSA Choir Scholarship (2018-2021). In 2021, Rhiannon competed in the Christchurch Competition Society's Annual Senior Vocal Competitions, placing in all classes entered and third in the Dame Malvina Major Aria.
An avid ensemble singer, Rhiannon also frequently performs with the Octagon Ensemble as a soloist and as an ensemble member, and was a member of the New Zealand Youth Choir (2017-2019), touring internationally with them on their 40th Anniversary Pacific Tour in 2019. The relationship between solo and ensemble singing in where she is focussing her Master's research.
This year, Rhiannon was one of twenty-one singers selected to attend the prestigious New Zealand Opera School where she was awarded the Merle Higgie Memorial Award. The final concert of New Zealand Opera Shool was reviewed in the Whanganui Chronicle. The reporter made the comments "And then there was a young woman – Rhiannon Cooper, an incredible young singer … one to watch … As she glided onto the stage … this statuesque singer was riveting, utterly memorable."
Sponsored by
Ineke and David Kershaw 
Update my details