David Squire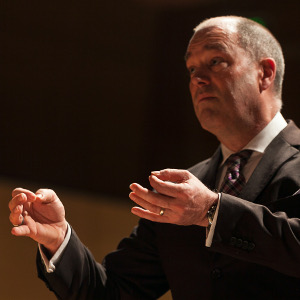 MUSIC DIRECTOR
MMus (Hons), PGDipMus, BMus, DipTchg
David Squire is one of New Zealand's most prominent conductors, and Music Director of the New Zealand Youth Choir. Founding member and vice-chair of the New Zealand Association of Choral Directors, he is also a national conducting advisor and tutor, and a governance board member of the New Zealand Choral Federation.
David completed his undergraduate study at the University of Auckland, with an emphasis on conducting and composition, later graduating with a Master of Music degree with first class honours in choral conducting. He studied singing with Isabel Cunningham, Glenese Blake and Beatrice Webster, and conducting with Karen Grylls and Juan Matteucci. He has sung with many top choirs inNew Zealand, including the Auckland Dorian Choir,UniversityofAuckland Chamber Choirand the New Zealand Youth Choir. He was also a founding member of Voices New Zealand Chamber Choir and the V8 Vocal Ensemble.
David was appointed to the position of Music Director of the New Zealand Youth Choir in 2011, and is the first alumnus conductor of the choir. He has led the choir on two international tours, including the USA and Canada in 2013, which featured performances of the War Requiem by Britten in the Walk Disney Concert Hall in Los Angeles, as well as concerts in Toronto, Ottawa, Montreal, Boston, New York and Washington DC. In 2016 the choir gave concerts in Singapore, the Czech Republic, France and the UK. Tour highlights included singing high mass at Notre-Dame in Paris, a lunchtime concert at Windsor Castle, and producing a live DVD recording of a well-received concert at St Johns Smith Square in London. The choir also participated in the Festival of Academic Choirs in Pardubice, Czech Republic, winning every category it entered, as well as the prize for outstanding vocal culture, and then going on to win the Grand Prix.
David has taught music in secondary schools for almost 30 years, directing choirs, orchestras and bands, including many groups that have won local, national and international awards. His mixed-voice chamber choir from Rangitoto College, The Fundamentals, won the platinum award at the 2008 NZCF Big Sing Finale in Wellington – the first time a mixed-voice choir achieved this. The Westlake Symphony Orchestra has won a gold award at every KBB Music Festival for more than fifteen years, and also won every award for the best orchestral performance of a New Zealand work for ten of the twelve years it has been presented. In July 2014 the orchestra won first equal prize at the Summa Cum Laude International Youth Music Festival in Vienna, Austria. His girls' choir from Kristin School, Euphony, was placed third in the open female choir competition at the International Musical Eisteddfod in Llangollen, Wales, in July 2013, and then represented New Zealand at the ChoralFest convention in Brisbane in 2017. As a freelance music educator, David teaches in several secondary schools and also takes workshops and professional development courses throughout the country.
David has conducted several local ensembles, including the Auckland Philharmonia Orchestra and the St Matthews Chamber Orchestra. He was the assistant musical director of the New Zealand Secondary Students' Choir, founding musical director of the Auckland Youth Big Band, chairman and administrator of the KBB Music Festival, and a live performance reviewer for Radio NZ Concert. He is often involved in session and recording work, particularly as a conductor, adjudicator, clinician and singer, including a tour with George Benson as backing vocalist in 2010. He was the choral adjudicator and clinician at the Rhapsody Rotorua festival for four consecutive years. He presented workshops at the 2009, 2013 and 2016 Sing Aotearoa Festivals and the 2010 International Summer School of Choral Conducting, where he was a mentor and tutor. In 2011 he directed training workshops for choirs singing the anthems at the Rugby World Cup, and then conducted anthem choirs at seven matches. In 2012 he was a mentor and workshop presenter at the inaugural ACD Choral Connect convention. In March 2017 he was guest conductor of the mixed honour choir at the AMIS festival in Abu Dhabi, UAE, and in July 2017 he directed the choir for Neil Finn's critically acclaimed album Out of Silence. In February 2018 he was appointed chorusmaster and choral director for the International Schools Choral Music Society, having taken on this role at the annual festival held in Suzhou, China.
In March 2011 he was awarded a New Zealander of the Year Local Heroes Medal for services to music education.
Update my details